113 A Aileen Rd, Flint All, VA 22627 • (540) 675-1984
Click here to contact us via email: EMAIL US
---
Click on an image below to explore our brands...
We produce mainstream upscale products that complement rather than overwhelm cheese and charcuterie.
We elevate cheese and make cheese boards look good.
Always all natural and traditionally made.
Our products can be found in specialty cheese shops and supermarket deli departments.
Click the icon below to download our party guide to better help you prepare for your next soiree!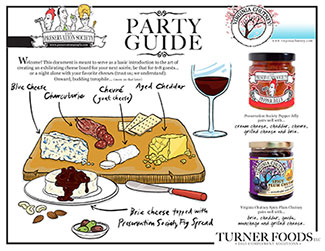 All text and images Turner Foods © 2021